A quality Christmas tree stand ensures that your tree stays fresh throughout the holiday season.
You can purchase our Cinco Christmas tree stands and Cinco Express quick release stands directly from Coburg in Melbourne.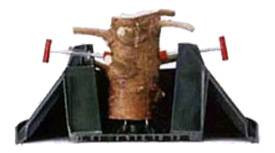 Just like a cut flower, real Christmas trees will drink up to one litre per inch of trunk diameter every day. For best results, cut 1/2 inch off the trunk before placing the tree in the stand. Check daily and add water when required.
Patented reservoir with spill guard. Features raised bolt posts and cut-away sides to save bottom branches. Only 4" (12cm) clear trunk required.